令和3年度大学院留学生特別プログラム修了式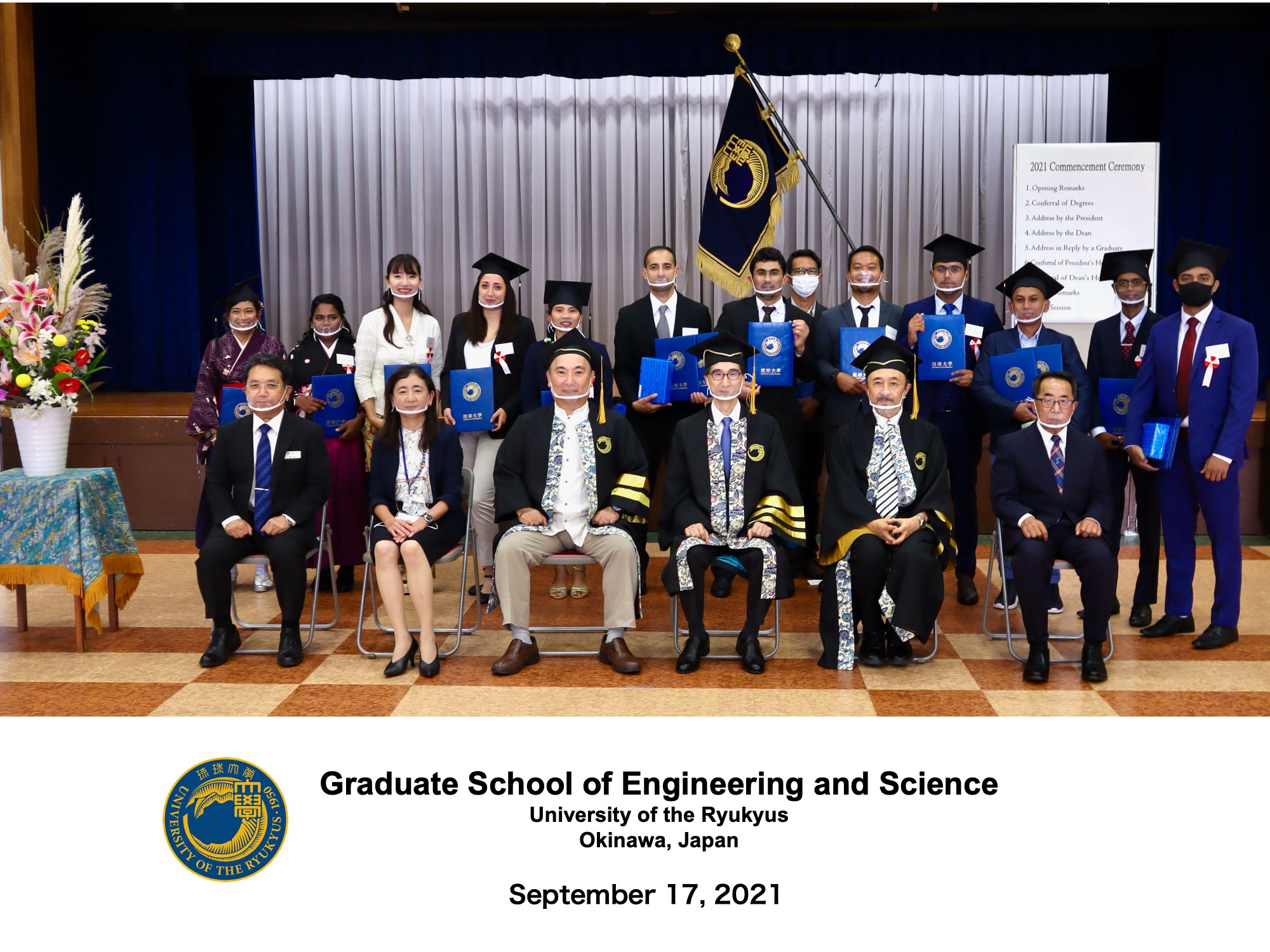 ---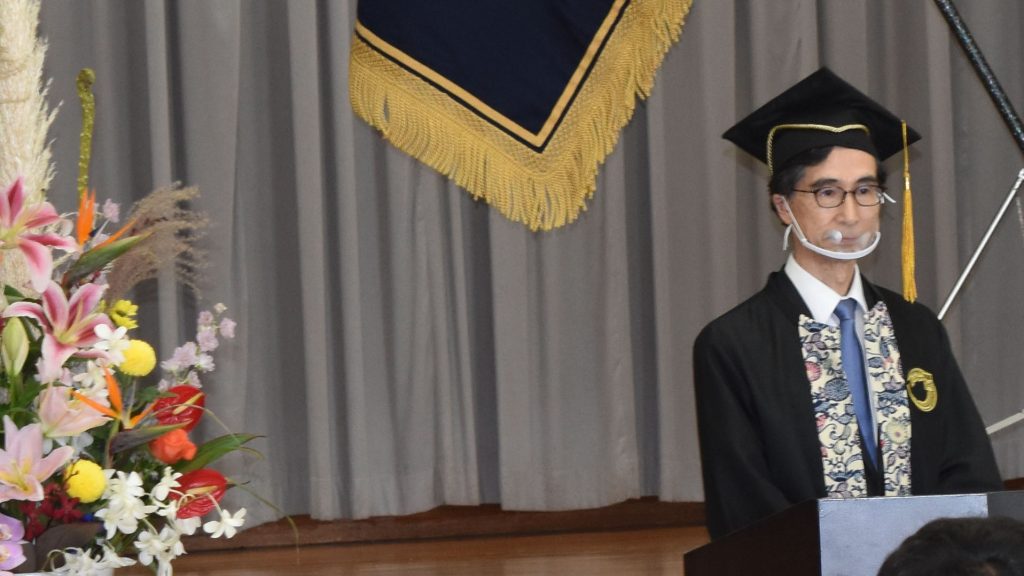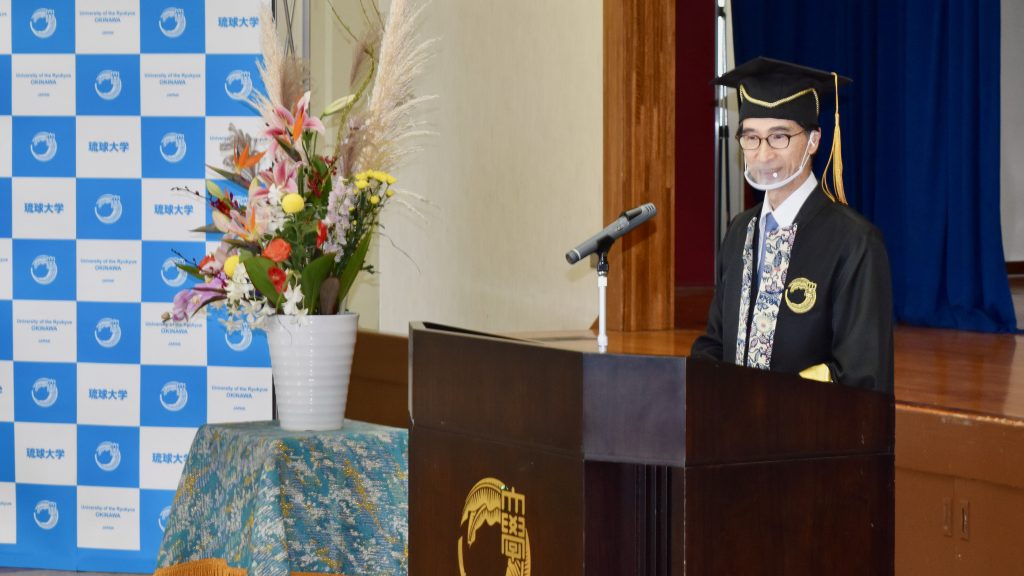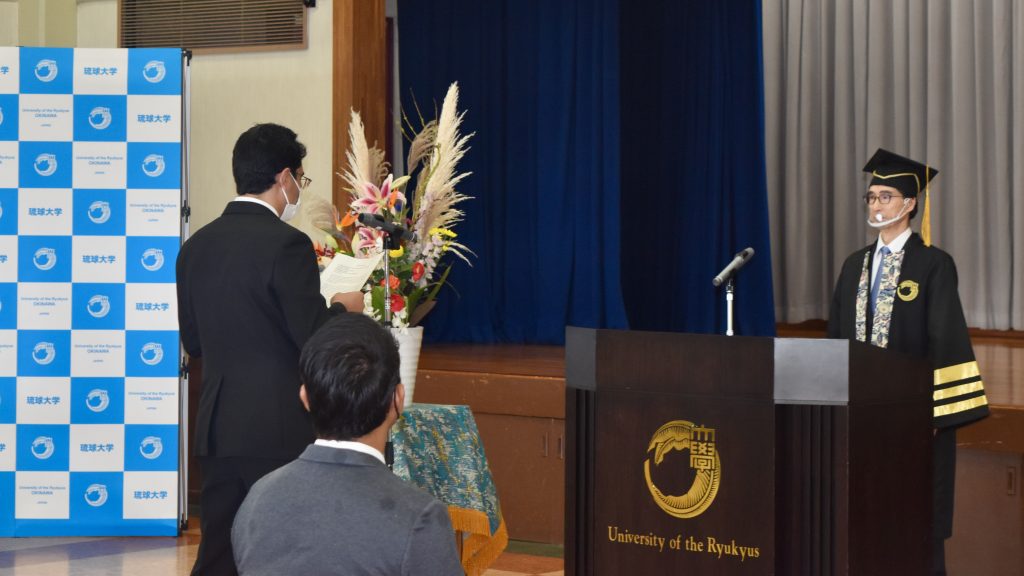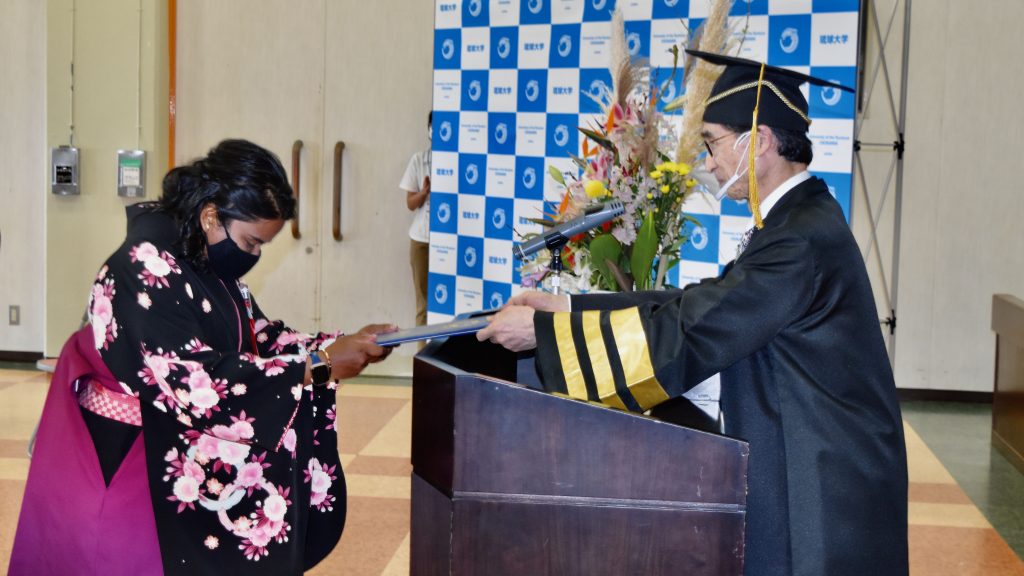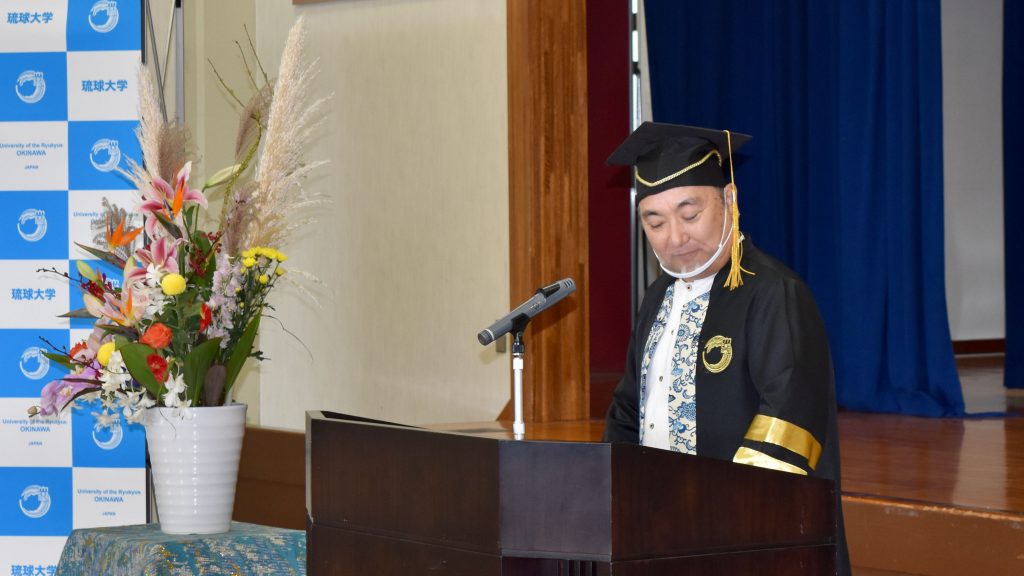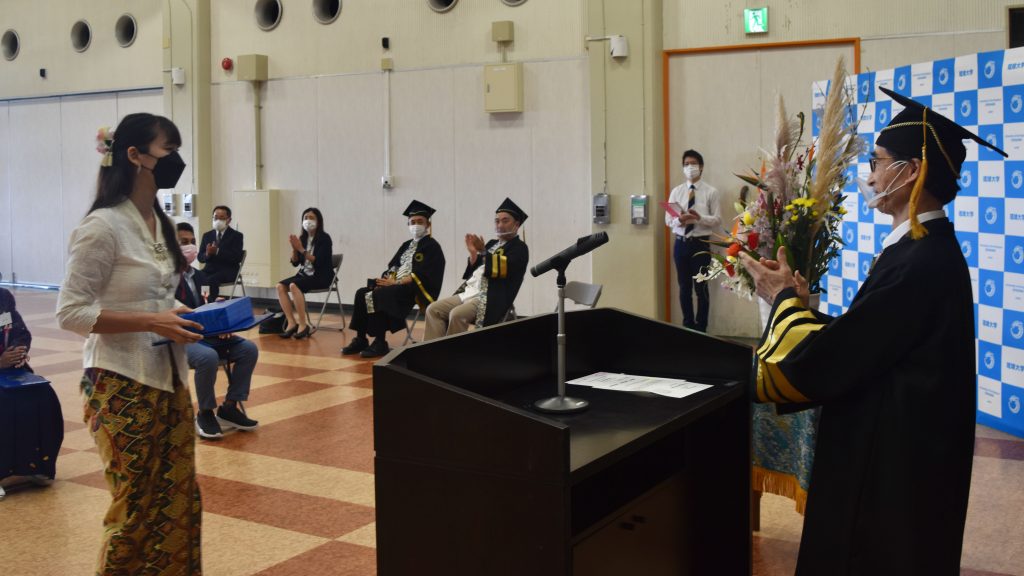 ---
Graduate School of Engineering and Science, University of the Ryukyus
2021 Graduation Ceremony
Commencement Speech of Dean
2021年理工学研究科修了式研究科長挨拶(英語原文)
Thank you very much, President Nishida for those heartfelt words. I also thank Vice Presidents, distinguished guests, faculty staff, and family and friends of the graduates for being here with us.
It is truly my honor to be with 17 young scientists and engineers today. To the family members, mentors, friends, everyone — on behalf of the Graduate School of Engineering and Science, I congratulate all of you.
 
Today, I would like to talk about change.
The world we live in is now changing very fast. This speed is getting faster than we've ever experienced.
We are experiencing a big change called the Information Revolution that describes current economic, social and technological trends. Someone also described it as the fourth Industrial Revolution.
Artificial intelligence, AI, equipped with deep-learning technologies, has now become a foundation to drive such revolution. Virtual and augmented reality, VR and AR, is an expanding platform for human–computer interactions. Technological advancements make the border between real and digital worlds unclear, like the scientific fiction movie the MATRIX. You may have already experienced the rapid technological progress in recent updates of your smart phones.
The technological singularity—or simply the singularity—is a hypothetical point in time at which technological growth results in changes unforeseeable to human civilization. Many people have assumed that we will reach the singularity in 2045. Peter Diamandis, best known for being founder and chairman of the X Prize Foundation, suggested that such critical turning point will come in 2030, 15 years faster than we thought before. It is indeed as his book title published in 2020, "The Future Is Faster Than You Think". COVID-19 has further accelerated the speed of change.
Corona virus infectious disease 2019, or COVID-19, is a pandemic comparable to the Black Death, plague and Spanish flu in human history. The pandemic this time has brought huge impacts on the society. We still need to live under various restrictions every day. You may felt uneasy even in your campus life. Despite living under such a difficult situation, all of you assembled here have successfully completed your graduate programs. I am very proud of you overcoming these many difficulties to reach your goal today.
Rapid change is a threat to those who desire stability. People tend to feel anxious to an uncertain future, because we humans are programed to be cautious about what we haven't experienced before. It is a natural reaction to feel uneasy against the uncertain future because it arises from our emotional instinct.
You may also feel anxious about the future of your own life, or of your family, and your country. There is an interesting psychological study published in 2020. The paper reported that 80% of your worries does not come true, and 16% of things you worry about can be prevented with precautions. This means that most of your worries never come true.
Nevertheless, we struggle with many kinds of anxiety in our life. "Que Será, Será " in Spanish,"なんくるないさ" in Okinawa dialect, both of which mean that "Whatever will be, will be". The mind of tolerance with optimism is an important key word in coping with rapid social changes. This is an Okinawan islander spirit, and this is one of the founding philosophies of the University of the Ryukyus where you have studied.
Don't be afraid of change. Keep your eyes on the horizon. Believe that tomorrow will be better than today. Please take good care of your family, friends and those who you met. With love, friendship and a little courage, such humanity will guide you to a better world.
To the end, I would like to quote an Okinawa dialect "いちゃりばちょーでー", which means that "once we meet, we are all family".
We here at the University of the Ryukyus have been and will be always with you.
Congratulations again, all of you.
May your life be a grand adventure.
Thank you very much.
September 17th, 2021
Hideo Yamasaki
Dean of Graduate School of Engineering and Science, University of the Ryukyus